KNOWLE HERITAGE WALK TWO
Cottages & Locks
1 – Parish Church to Kixley Lane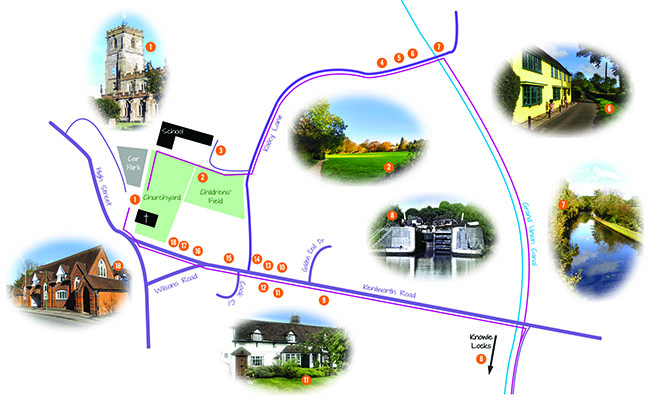 ROUTE:
Begin the walk at the door of Knowle Parish Church. Turn towards the rear churchyard and go straight across the 'crossroads' in the paths to follow the one that leads through the centre of the churchyard to the far hedge.
Then, turn right onto the path between the hedge and the shrubbery. This leads into the Childrens' Field. Walk directly across this, following the hedge to your left, to exit, turning left this time, onto Kixley Lane.
PLACES OF INTEREST:
1 Parish Church – Grade I listed, the Church was consecrated in 1403 and retains many of its early features, although it has been extended at least three times and the interior was extensively restored in 1860. The northern, white sandstone, face is the oldest part of the exterior. More information can be found in the porch.
2 The Childrens' Field – This open space was transferred into the ownership of the (then 15 year old) National Trust in 1910, by the then Vicar, Revd Canon T W Downing, on condition that it be used as, and remain, a recreation ground for the children of the village.
3 Knowle CofE Primary School – The school was built in 1966 and opened in 1968 to replace the old school house which is the final stop on this walk.