KNOWLE HERITAGE WALK ONE
Knowle High Street
1 – East Side to Bread Collection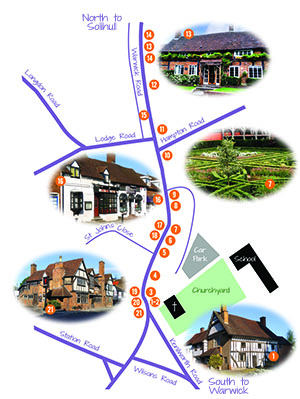 ROUTE:
Begin the walk at the Guild House, the timbered building adjacent to the Parish Church. Turn towards Solihull and walk along the High Street on the right hand side until you reach the Bread Collection.
PLACES OF INTEREST:
1 The Guild House – The Guild House, Grade II listed and dating from the early 15th century, is now part of the Church premises. Formed under licence from the King, the Guild of St Anne was a religious fraternity providing support to those in need in the community. Members included some of the Shakespeare family, before William's time. The House provided a 'College', a communal life for incumbent priests. The Guild was dissolved in the 1547 Reformation. However, depictions of the Seals of the Guild and the College remain, beside the upstairs window.
2 Nos 1709-1713 High Street – The black and white timbered St Anne's Cottage, with the adjacent Monastery House and chemist's shop, were originally part of the Guild building and share Grade II listing. Outside these is the Millennium sign, commissioned from sculptor Graham Jones to mark the dawning of the third Millennium.
3 No 1707 High Street – Built in the 19th century, this became the village Police Station, just before the First World War, and had a cell in the cellar. From the mid 1930s until 2001 it was the village newsagent.
4 The Bakery – Grade II listed nos 1699/1701 High Street were built very early in the 18th century. The Curtis family were the local bakers from about 1906 until it was sold to the present owner in 2004.